AfroHeat Fiesta 2023 – Get ready to experience the ultimate Afrobeats & Amapiano celebration at Encore Event Center on October 21, 2023!
Tickets will be available at the door but will be higher once online pre-sales ends, so get your tickets now!
Join us for a sensational night of music, rhythm, and dance as we proudly present "Afroheat Fiesta 2023" featuring the renowned Nigerian artiste Spyro. Spyro, the Afro-fusion sensation, will be gracing our stage with his infectious beats and electrifying performances. Get ready to groove to his chart-topping hits, including "who's your guy", "Funke" and "Japa."
Dress Code: Festivity & Bright!!
Brought to you by: Nara Ultra Lounge
Supported by: Perazim, BMT Entertainment, Vibesland
Managed by: AfroPanda Ent.
This event promises vibrant performances, energetic dance, and the hottest Afrobeats tracks that will keep you moving all day (and night) long. Whether you're a seasoned Afrobeats enthusiast or new to the genre, you're in for an unforgettable night of music, celebration, and camaraderie. All inquiries – Contact Nultralounge@gmail.com and +1 (858) 462-7085.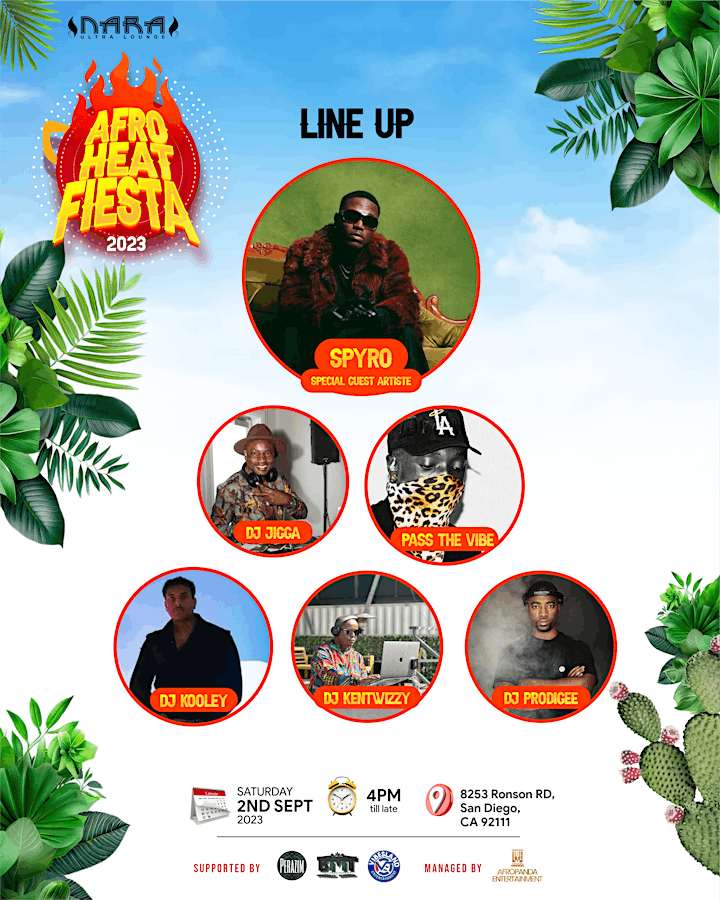 Be sure to check out our fully stocked bar! Order drinks and food directly at the bar! Get first hand experience from our uniquely selected DJ like DJ Jigga, Pass the vibe, DJ Kooley, DJ Kentwizzy, DJ Prodigee and many more who will be showcasing and spinning the best music all through the event, Dance from daytime till sunset.
The Day includes:
Ample outdoor space for interaction, relaxation and dance!
Live performance by Spyro, the Afro-fusion sensation.
A full DJ Line up playing Afrobeats, Amapiano and Various Genres of Music
Enthralling dance performances showcasing the best of Afrobeats dance moves.
A lively atmosphere celebrating the spirit of African music and culture.
A full day of activities followed by the After Party immediately After
Delicious food and drinks available for purchase, including a taste of Nigerian cuisine.
Gather your friends, put on your dancing shoes, and let the infectious rhythms take over!
Great for Birthday Celebrations / bachelorette / bachelor / anniversary / graduations & more (Balloons & Cakes permitted – no other outside food allowed).
Contact Nultralounge@gmail.com and +1 (858) 462-7085 for reservation and VIP sections.
The dress code is 'Festivity & Vibrant". Dress to Impress
Tickets might also be available at the door but might be higher once online pre sales ends
Event Information:
Location: Encore Event Center, 8253 Ronson RD, San Diego, CA 92111.
Date: Sat, October 21, 2023
Time: 4:00PM – 9:00PM (Main Outdoor Event), 9:00PM – 2:00AM (Official Indoor After Party)
21+ & over with proper ID
For more information and ticket purchases, Contact Nultralounge@gmail.com and +1 (858) 462-7085
Follow us on social media for event updates and sneak peeks: @nuloungesd

EARLY ARRIVAL IS HIGHLY RECOMMENDED
Bring your positive vibes & great energy all 2023! Hope to see you there!
Frequently Asked Questions
What is your refund policy?: All sales are final. There will be no refunds issued.
What is the minimum age requirement?: This is a 21 & Up event. No one under the age of 21 will be allowed in. IDs will be checked at the door.
Do I have to print out my ticket?: Both printed or electronic tickets will be accepted at the door. Not having your ticket at the door will result in you having to purchase another ticket at the door.
Tickets will be available for purchase at the door but might be higher due to demand.
Will My Ticket be good all day?: Tickets are guaranteed until we are at capacity. It is advised that all persons purchasing a ticket online, get there before 6PM or before we hit capacity to be guaranteed entry.
What is the dress code?: Festivity and Vibrant highly encouraged but not enforced. This is still a social setting, so dressing fashionably is always recommended and highly encouraged.
Bring your best festivity outfits and you could win a gift.
Will there be table reservations/bottle service available?: All inquiries should be made ASAP by contacting (insert contact details)
DISCLAIMER:
Due to the COVID-19 pandemic all patrons enter at their own risk and agree to abide by all local, state, and federal guidelines governing the current COVID-19 pandemic. You further agree by attending this event to hold harmless the entertainment company, venue, its staff and/or contractors of anything conducted or contracted due to the current pandemic or anything outside the control of the above named individuals.
The contact information provided to us, such as Email, Names and Phone number, may be used to promote future events. Your information will not be shared with any third party or Brands outside of Nara Ultra Lounge, Afropanda LLC and its partners. If you have questions, please email us directly through Info@afropandaent.com or visit www.afropandaent.com for more info.
By attending Afroheat Fiesta 2023, you give and consent to Nara Ultra Lounge and its partners to use in any form deemed necessary including but not limited to social media, event posters, media features etc, pictures and videos of you that may be produced during the course of the event, and none of the parties can or shall be held liable for the usage of such contents.
Tickets might be available at the door but might be higher once online sales ends.